I don't try to think too much about my work. By that I don't mean that I don't care, far from it. Rather I try to not spend too much time in my head. I want a gut feeling. An organic, spontaneous, "where did THAT come from!?"  I used to think too much and that would stifle my ability to be creative. Learning to not think is hard but it helped me be receptive to the quiet inner voice of almost crazy from where interesting things come.
I do find though that once an idea presents itself I need some kind of framework to put it in for it to finally have it make sense so that I can flesh it out. A working title often is my method to do this. Even if this notion has little to do with the way that people will relate to the final image or project that's ok because I get the depth of understanding that I need.
Case in point: my story about the wresting team. It started out as a simple profile that I wanted to do about a wrestling coach and how he relates to his team in such a different way than just about any other kind of sport. I did the interview with the coach before the photos and that ended up being critical. During the interview the coach mentioned that he was the new coach but he wanted "to create a dynasty" with the team. That's when I realized that it wasn't a team in a sports sense but a team in the warrior sense. So I knew that I was going to have to shoot the project in B&W and to show them as a finely honed elite military squad who relied on each other for survival. It turned out that I was right about that in more ways than I would have expected when I started the project. A simple profile turned into a 12 week and 5 part multimedia project.
I've been doing a portrait series of chefs that I respect and that project came from the idea that I was going to shoot them on my YashicaMat twin lens medium format camera with one light. Nunno why but it just came to me. I wanted to be limited by the fixed lens, the slowishness of film and all that was a great creative push from being able to use loads of lights at levels of sensitivity from the digital capture world that is just not possible with film. Oh and I'd only give myself a single roll of 12 frames to get what I need. Just to make it harder on me. Why not?
Then a bit ago I realized that I want to do a series that shows my respect for and love of craft brewers. But I didn't have any notion of how I was going to show them. As a homebrewer and occasional competition beer judge I am intimately familiar with the craft.  One of the reasons I so respect what the masters of the brew craft can do is that making sublime beer is very very hard to do. That knowledge was a help but only to a degree. That is all "thought" stuff. I didn't have a feel. A way to emotionally support what my brain will eventually have to turn into imagery.
Thus I did what I often do when there is neither client nor deadline: nothing. Just let something come to me. If I have nobody to satisfy but myself I can afford to take my time. But lo and behold over the last month I got a number of assignments to photograph a number of breweries and brewers. Lucky me I got to photograph Adam Glazer the head brewer of Fort Collins Brewing. I happen to personally know Adam from his days not very long ago when he was just a guy who was winning a lot of awards for his homebrew. Now he's pro and doing quite well thank you.
Where was I? Right what to do with the brewer portraits! So I was making photos of Adam for a story about water quality, since beer is mostly water it's quality is critical. While we were up on the scaffolding where he was overseeing a brew in action in the kettle I decided to get a shot from where I wasn't. I just stuck my camera out at arms length and fired a few frames while he was looking at the young beer boiling away.
Here is the full frame, no cropping.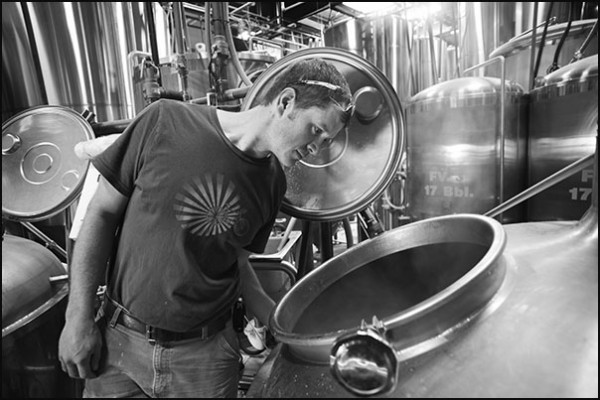 I realized when I got back to process my images that that one was the winner. Not for the client but for me. And it had to be B&W as the subtle colors in the scene didn't bring anything to the shot. The mood is there, all the steel and light and steam. It hit me: while I'm trying to show the chefs as artists of edible performance the brewers are alchemists working with big machines to transform 4 simple ingredients into a myriad of liquid experience.
So now I know how to proceed with this project thanks to Adam, a properly framed instinctive shot and the environment that he was in to make me see past myself and what I know so that I can visualize a feeling.