I bet you can. In a way. Sort of. Maybe. Uh, …
Let's first define our terms. In the modern era wherein everyone has an image making device loads of people are off making tons of happy snaps. Some are actually pretty good. Most is what you'd expect from a total amateur who is point and shooting: boring representations of objects. And a good lot of it is down right rubbish where the most insipid subject-visual approach combo is supposedly brought to the height of glory by processing the jeebus out of it with a "push here for ART!" button. Ugh.
Ok we've established that you can make "photos" but can you really shoot? No processing gimmicks. No easy subjects like your wacky family or hipster/cool friends who easily do neat things on command. No cats either, major apologies to my wife – a hard core cat person. What I mean is: can you with a straight, un processed image make interesting images from quiet/boring/hard to approach subjects in compromising conditions? Really? Let's see …
Go to a city council meeting and make interesting images of the guys behind the desks. They don't do much do they? Awful lighting isn't it? Dreadful background too. Don't 'cha wish you could have better angles to work? Yep.
Better yet shoot one dude at a podium talking about, I dunno, economic forecasts. That's some excitement. Bet he's lit from either a single ceiling light that is right over his balding head and renders his face into a ghoulish, eyeless lump. Since he's the only guy talking, every time you trip your shutter it sounds like a shotgun going off in the room. She-ZAM! I didn't think my camera was THAT loud?!?! Makes you rather self-conscious don't it?
But still, given all that photographic horror, can you make an interesting image with that to work with? Yes? No? Maybe? Go find out. Seriously. I don't care what your usual subject matter is; try it. Makes you work pretty hard. Find something graphic, some moment, something that makes you want to look at the image.
Case in point: Last night I was on assignment to photograph the famed author Salman Rushdie giving one of his lectures about all the things that are important to him: literature, politics and philosophy, to people at the University Of Colorado. He's an eloquent speaker and very smart guy. Interesting to listen to. Not much to watch. He's very reserved physically with a quiet voice and dry sense of humor. He kinda just stands there. Oh and I only had five minutes to get what I needed before I was escorted out of the building. No pressure!
I got the shots that I needed. The ones where he looks scholarly and slightly intense – gesticulating in speech. No prob. That's a matter of spending time to learn his approach to public speaking, while shooting him of course!, and like a good sports photog pre/re acting to his subtlest movements to get some sort of gesture that elevates the composition.
This one is my fave for two reasons, 1) it's a little odd which as you might have learned about me so far – I like, and 2) it's a mirror image of what many would wish that he would do: gag himself. This is when knowledge of the subject comes to play wherein I know about the price on his head in the radical Islamic world because of his book The Satanic Verses.  Simply put, they wish that he's shut up. In the case of this frame it's the wonderful illusion that photography can produce when a moment is captured and the mind is allowed to fill in the blanks. To me it looks like he's covering his mouth in front of the microphone but he's actually just nervously wiping his beard. Still, it's funky and different.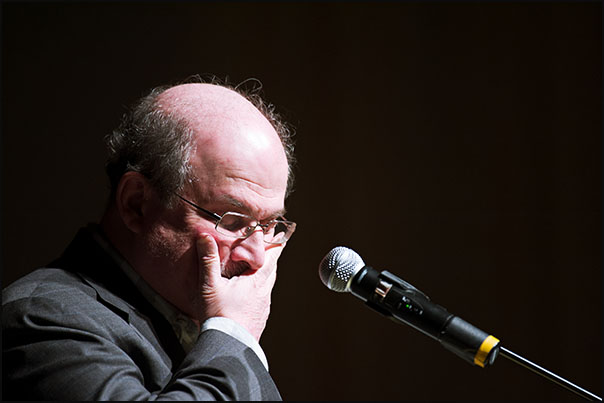 So go where there is a guy yapping at a podium and try to make something interesting in only five minutes.  Ya think you can shoot?