Well folks meet my 2005 Suzuki DL650 V-Strom.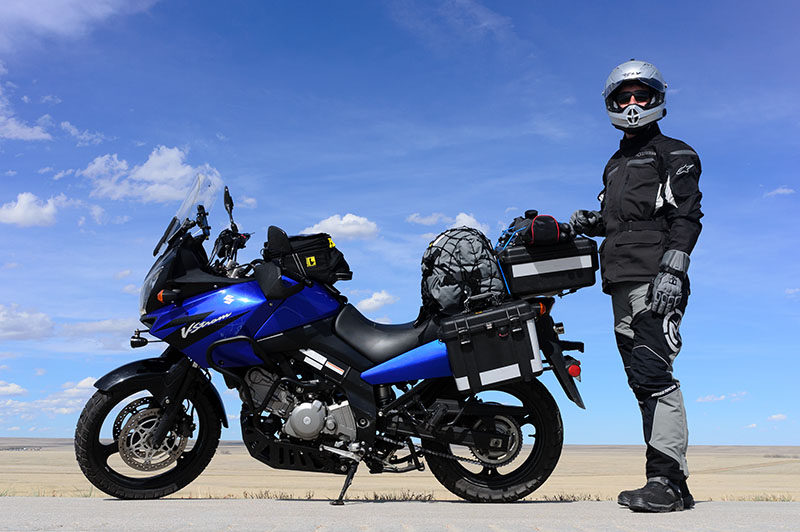 I picked her up late last summer with the intent of using her, yes bikes are always female just as ships are, to help get me places that my trusty Honda simply won't. For those of you not familiar with these things the Strom is what is referred to as an Adventure Touring bike. It's essentially a street bike with the engine and suspension set up to be able to go off road. Some Adventure bikes are more dirt oriented in their set up and others are more street. The Strom is more street which is fine for me. Think of it as a hot Subaru with a lift kit, skid plates and sorta knobby tires: reliable as heck and rather comfy for long hauls on the interstate but if you need to go down a hundred miles of very rough, muddy, rutted and rocky roads it will also do just dandy. Not gonna take her on tight and highly technical trails though. That's more "Jeep" territory whereby they are just the ticket for crawling along impossible terrain but are horrible on the highway.  Other bikes are more designed for the seriously rough stuff. The Strom is the right balance for me.
All that stuff on her? Well that's my trial load out for my big trip up to Montana that I will be doing in a few weeks. The shot above was done about two weeks ago when I was finishing up two days on the bike doing some work in the lower part of the state around Pueblo. The big trip will be two weeks on the road following essentially the spine of the northern Rocky Mountains doing some work but mostly a set of portraits for a project of mine. I needed some way to get me up there into what could be sorta rough territory with ease. Thus the Adventure Bike.
Squashing all my necessary gear into the limited space that a bike gives has been and interesting challenge. I'll have a whole post on just what I'm taking and how I'm making it all work.
Stay tuned!